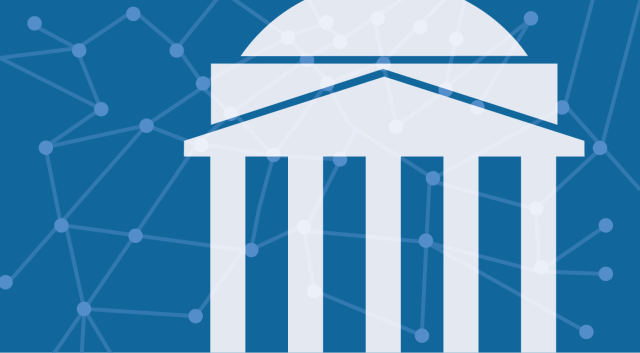 In two reports published on November 22, 2021 and February 7, 2022 corresponding to the 13th "Future of the Internet" canvassing, Pew Research Center and Elon University's Imagining the Internet Center present expert views about important digital issues in response to questions focused on the prospects for improvements in the tone and activities of the digital public sphere by 2035. It is a non-scientific canvassing based on a non-random sample of experts.
In the First Report, some 862 technology innovators, developers, business and policy leaders, researchers and activists responded to this specific question:
Looking ahead to 2035, will digital spaces and people's use of them be changed in ways that significantly serve the public good?
Many say they expect that these forums will be significantly improved by 2035 if reformers, big technology firms, governments and activists tackle the problems created by misinformation, disinformation and toxic discourse:
This is the fork in the road where people can choose a better future – or a downward path, Mark Davis

Move to a new moral theory that it is wrong to exploit known flaws in the human psyche, Brad Templeton

People will use new tools to turn rage into public awareness, acceptance and rapport, Maja Vujovic

We should do more work imagining and creating new spaces, Ethan Zuckerman

A robust regulatory approach can improve more of the digital sphere, Kunle Olorundare

Tech alone can't solve inequality or hate; humans must collaborate to bring true change, danah boyd,

These are challenging issues, but people and tools will evolve a better public sphere online, Vinton G. Cerf

Requiring platforms to become interoperable would allow people to choose where they want to be, Cory Doctorow

We need to start training our babies as carefully as we are talking about training our AIs, Esther Dyson

Putting people's rights above companies' rights will create better spaces, Adam Nelson

We need a Universal Declaration of Digital Rights, Raashi Saxena

Stop playing with 'technocratic incrementalism' and take big steps toward positive change, Caitlin Howarth

People should be recognized for what they do; they should not pollute their rivers, Srinivasan Ramani

Changes in governance and law, amplified by tech, can help shape a better public sphere, Beth Simone Noveck

Industry should come together with the public sector to broaden access to digital skills, Melissa Sassi

Leaders will see they must cooperate to convert swords into sustainable solutions, Jonathan Grudin

Tech will mostly be applied to controlling populations and resources and to entertainment, Douglas Rushkoff

Digital transformation arrives as climate change is at the top of the global agenda, Grace Wambura

Bad actors are still going to act bad; no one is in charge of the internet, Alan Mutter

We need an FDA for tech, an agency to help monitor and regulate its effects on humans, Carolina Rossini

New breeds of social platforms and other human institutions have to emerge, Robin Raskin

Can we meet the challenge of automating trust, truth and ethics? Francine Berman

Investing in change can have a multiplied impact, Amy Sample Ward

Tech leaders and politicians can play a beneficial role, Mei Lin Fung

Hoping for the decommodification of digital platforms and the rise of AI-generated ad hoc networks, Bart Knijnenburg

A new kind of information civilization is being built, Calton Pu

As long as there is profit to be made in scaring people, societies will continue to fracture, Larry Lannom

Cross-sector collaboration is needed to work toward the creation of aligned incentives, Perry Hewitt

Reasonable regulation can promote accountability and free expression, Nazar Nicholas Kirama

All stakeholders have to keep each other in check in the further development of digital life, Olivier Crépin-Leblond

Machines, bots will be more widespread and more spaces will be autonomously controlled, Marc Rotenberg

Politicians will be motivated to ensure resilient economic societies, Amali De Silva-Mitchell

All miraculous technologies eventually 'settle down' and steadily improve humanity, Frank Kaufmann

Leaders' primary role is to assure that decentralized and open systems can thrive, James Hendler

The best spaces come with heterogeneity, collaboration and consequences, Gary A. Bolles,

It is, as always, a war with Doomsday scenarios ready to write, yet the future is bright, David Porush

A rising communications tide lifts hospital ships and pirate ships, altruists and fascists, Howard Rheingold

As communication becomes more bifurcated, things could become more deconstructed, Chris Arkenberg

Have faith in individuals' improvisation, bricolage, resistance and reuse/reinterpretation, Jay Owens

Don't ignore the good on the net; media's narrative about it is incomplete and dystopian, Jeff Jarvis

Increasing complexity will dominate our future; here's a rundown of what will change, Mike Liebhold

New-gen platforms will live in our networked wearables, transportation and built environment, John Lazzaro

People have to adapt to overcome; there is no other workable solution, Anna Andreenkova

Every year of an unrestricted internet industry damages the public sphere more, Bruce Bimber

The difficulty comes in generating the appropriate collective action and trust, Susan Crawford

We hoped for cyberutopia, feared cybergeddon, and we're getting 'cyburbia' – an amped-up analog reality, Paul Saffo

'Between Fear and Hope' is a fitting title for today, but there's hope for a brighter tomorrow, Ben Shneiderman

We are divided by very real differences that did not originate with the internet, Michael H. Goldhaber

These systems can be built to support full agency for everyone by design, Doc Searls

The definition of 'social good' is evolving in digital environments, Jamais Cascio

The metaverse is nigh: The seeming gap between digital and real-world spaces will soon be gapless. What then? Barry Chudakov
In the Second Report, 434 technology innovators and developers, business and policy leaders, researchers and activists provided open-ended responses to this question:
We invite you to imagine a better world online: What is one example of an aspect of digital life that you think could be different in 2035 than it is today? We invite you to create a vignette of something you would like to see taking place in a "new and improved" digital realm in 2035. Your example might involve politics or social activities or jobs or physical and mental health or community life or education. Feel free to think expansively – and specifically.
Experts hope for ubiquitous, even immersive, digital environments that promotes fact based knowledge, offer better defence of individuals' rights, empowers diverse voices and provides tools for technology breakthroughs and collaborations to solve the world's wicked problems:
Megatrends will prompt people and organizations to transform into better versions of themselves, Jim Spohrer

Digital spaces will move inside us and physical spaces will include adjunct digital spaces, Barry Chudakov

Problems and solutions will be spotted more quickly and a flowering of creative activity will occur, Miguel Moreno

New behavioral norms and a new layer of professionals will help improve digital spaces, Zizi Papacharissi

The next frontier is designing digital spaces for safety and serendipity and taking those spaces out of the hands of corporations and governments, Lucy Bernholz

Look for the creation of internet communities that become training grounds for participation in democracy, Ethan Zuckerman

Hope that biometric profiling will be outlawed and true contextual advertising will arise, Joseph Turow

It will be much harder to get away with harmful things, Vinton G. Cerf

The natural monopolies of current social media platforms are broken, Brad Templeton

A happier world of lowered ambitions and less technology use lies ahead, Douglas Rushkoff

People will live in spaces where we can see how we are all connected and how our lives are dependent on those around us, danah boyd

A Human API allows people to reimagine their relationships with each other and organizations, Susan Price

New kinds of programs could be built to serve those who are struggling, Esther Dyson

Hyperlocal sovereignty takes hold after representative democracy fails, Tony Smith

A sharing economy arises to challenge the economy based on owning property, Giacomo Mazzone

The younger generation's organizing power – think K-pop armies – arise to bring change, Jay Owens

Digital patrons will arise alongside influencers, underwriting digital creators, Yvette Wohn

Digital technology will have disappeared in the era of ubiquitous computing; it will be powerful and unseen, Paul Saffo

The distinction between online and offline will vanish, Susan Crawford

Schools, families and every social institution must act, Alejandro Pisanty

Better Technology than the Web will become the standard, allowing individuals to set their own rules of engagement with digital life, Doc Searls

Home on the cloud and living in the fourth dimension, Mei Lin Fung
Quite a few number of ideas. Enough?
____________________
Featured Image: Pew Research Center