One of the things that impressed me most when I read Marcel Proust's In Search of Lost Time, nearly one hundred years ago, was the nearly incredible length of the sentences. Starting a new sentence was like opening a door and dive into an unknown mansion —a sort of Hotel California— where you could freely roam back and forth without knowing what you would find in the rooms between commas, or whether you would be able to reach the final dot and leave. Many of my favourite authors of an old forgotten youth of avid reader thrive on long sentences. Reading them made me understand that there is no real limit to the length of a sentence.
In the twitter era, this remembrance of things past seems but a blurry dream. In fact, our present trend of condensed memes seems to be only one step more in a long march (at least, in English Literature)…
… which perhaps unveils a hidden trend in our reading preferences.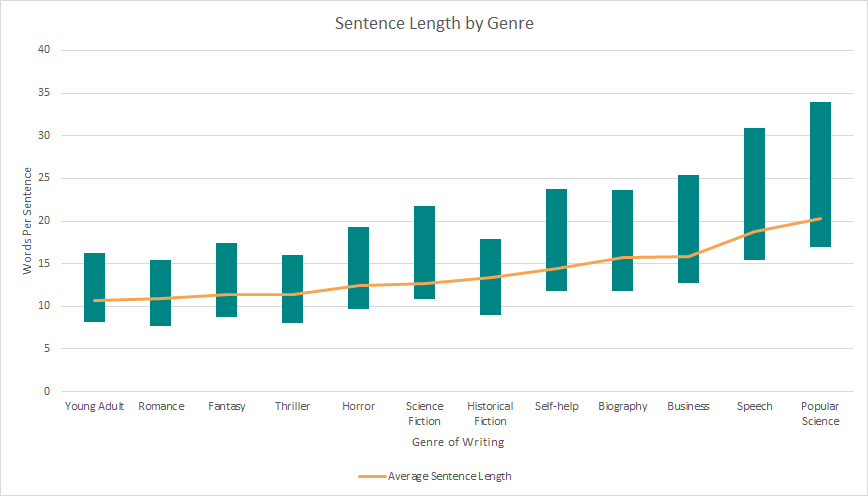 There is more to punctuation than simply carving out a space for words, as I discover a few days ago, when I came across this post by Adam J Calhoun which allows you to see literature in a new light.
Writing can be beautiful because of the words an author chooses to use: but it can also be beautiful because of the choice of punctuation.
In fact, there is a hidden pattern in the punctuation in novels which it is possible to visualize1. (Details in Calhoun's post)
____________________
For some reason I ignore, those heatmaps remind me of the cover of my own books, a different kind of "Extrapolation" with an intriguinly similar look;
Feature Image: Adam J Calhoun, Punctuation in novels.